volkerc
Mandalorian Maniac™




7221 Posts

Posted - 08/10/2012 : 11:45:37 AM




---
Offizielles press release:


quote:

---

Droid Factory Parts Swap at Celebration VI: "Yes, these are the droid parts you are looking for!"

As part of Hasbro's activities at Celebration VI, the Hasbro team invites fans back for the Droid Factory Parts Swap. Bring your spare parts from the 2008-2009 Droid Factory run and swap 1-for-1 for parts to complete the droids you need. Not all parts for all droids are available, but may be traded in by other fans during the Weekend, so check back often and happy trading. Also, Hasbro will be giving away Droid Factory posters (while supplies last) in its booth. Uttini!

---
---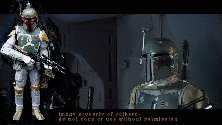 "This Bounty Hunter is my kind of scum."