titusillu
Zopfloser Padawan m. sehr grossem Schwert




Germany
2059 Posts

Posted - 01/16/2013 : 11:41:46 AM



---
Hallo zusammen,
da ich erst neulich wieder in Südkorea war und dort ein paar befreundete Sammler traf, dachte ich es wäre vielleicht mal nett, alles über die koreanischen PotF2 Karten zusammen zu tragen was es so gibt. Ich konnte auch ein paar kaufen, allerdings mit erheblichen Spuren vieler Jahre in verstaubten Regalen. Hat aber auch was für sich, finde ich :-)

Ich fände es toll wenn wir hier zusammen tragen können was es so an Material dazu gibt, könnte doch spannend sein!?! Ist immerhin ziemlich kurios, der koreanische Star Wars Schriftzug ... :-)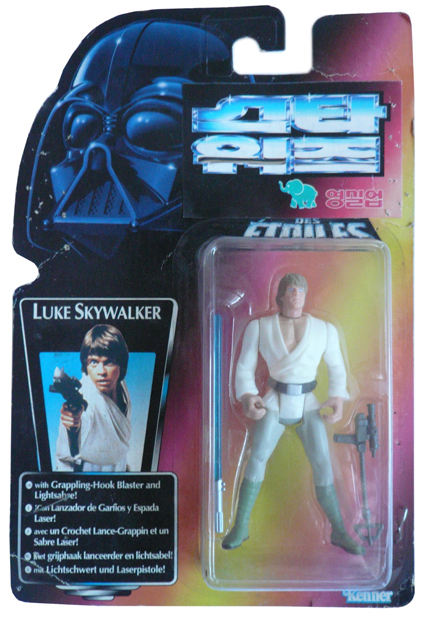 Mittlerweile sind in den letzten Jahren ja einige koreanischen Karten aufgetaucht. Ich habe dazu meine koreanischen Sammlerfreunde interviewt.

Etwa zur gleichen Zeit wie überall sonst in der Welt auch, ca 1995 / 96, erschienen die roten PotF2 Karten in Südkorea. Sie wurden von der koreanischen Firma "Jongsirop" offiziell importiert, die zu diesem Zweck die Karten mit einem Aufkleber mit koreanischem Star Wars Schriftzug und ihrem Signet versahen. "Jongsirop" heisst in etwa: Firma namens Jong - wobei Jong etwa wie das englische "young" ausgesprochen wird, aber nichts damit zu tuen hat. Wegen der passenden Bedeutung hat man aber, siehe Webseitenname, die Schreibweise mittlerweile dahin gehend geändert. Alle Karten die ich bis heute gesehen habe waren europäische red cards. In einer Liste bei Sandtrooper.com steht auch eine grüne "Probe Droid", diese habe ich allerdings noch nicht gesehen. Übrigens bisher auch keine andere deluxe Karte, rot oder grün. Jongsirop gibt es noch immer, sie haben eine hübsche Webseite, aber keinen Hinweis auf Ihre PotF2 Historie: http://www.youngtoys.co.kr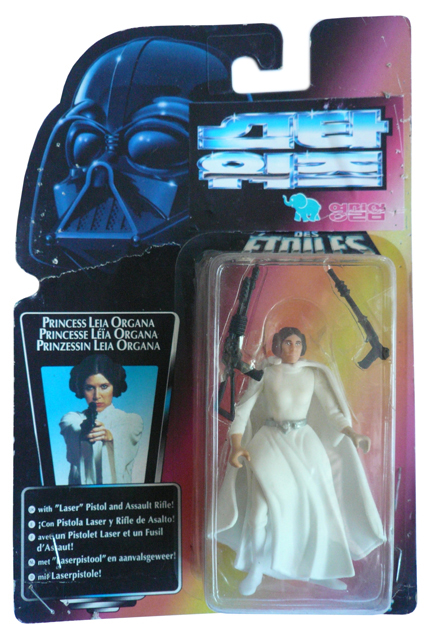 Man sagte mir in Korea, das in den 9oer Jahren immer noch viele Spielzeugsachen in Korea selbst hergestellt wurden, unter anderem auch sehr viel billiges und Kopien. Deswegen waren die Hasbro Originalfiguren im direkten Vergleich sehr teuer, weswegen man den Import schon bald einstellte oder wegen geringer Stückzahlen darauf verzichtete, die Figuren mit extra Stickern zu versehen (beide Versionen wurden mir erzählt). Ich habe eine Menge billiges, original oder gefälschtes koreanisches Spielzeug aus dieser Zeit gesehen, halte deswegen Version 1 für wahrscheinlich. Das erklärt auch warum es keine grünen PotF2 Karten gibt (?). Das würde vielleicht auch erklären warum (wegen schlechten Verkäufen) die koreanische Überproduktion in England gelandet sind, versehen mit den UK Import Stickern.

Es ist übrigens auch interessant dass die "guten" Karten die ich gesehen habe alle die UK Sticker haben, während die, die ich in Korea gesehen habe, alle ziemlich deutliche Spuren jahrelangen herumstehens auf staubigen Regalen trugen. Die 3 Figuren die ich gefunden habe haben ausserdem Tackerklammern in der Pappe und Bubble. Mir wurde erklärt dass dies eine übliche Art war früher in den Shops die Ware a) zu befestigen (zB an Holzlatten) und b) die Ware vor Diebstahl zu schützen.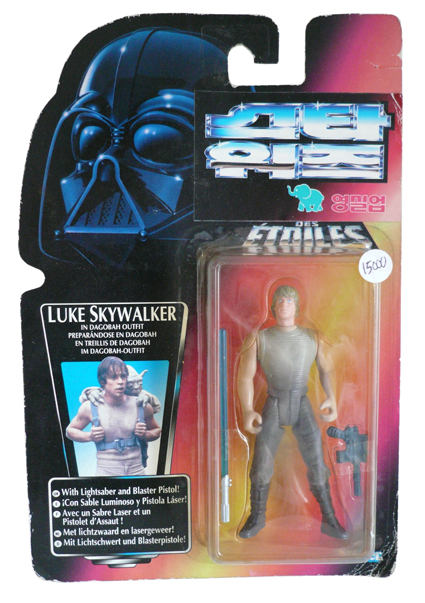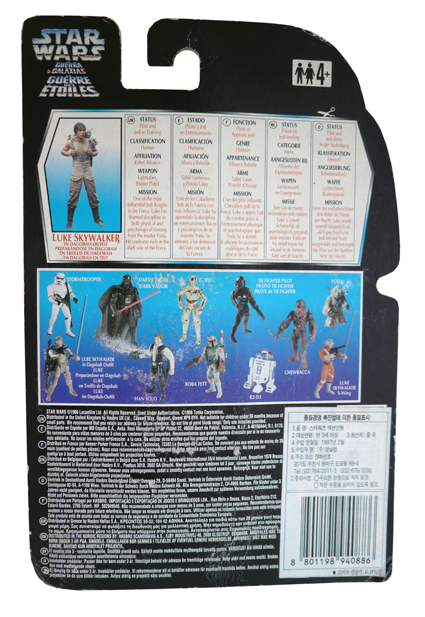 Was ich sagen kann nachdem ich in 2 privaten Spielzeugmuseen war ist: ich habe insgesamt einen kompletten Satz der ersten 12 PotF2 Figuren gesehen, rote Karte, koreanische Sticker; Luke Farmboy, Darth Vader, C3P0, R2D2, Stormtrooper, Ben Kenobi, han Solo, Chewbacca, Leia, Luke XWing, Boba Fett, Lando. Ausserdem Luke Dagobah und Han Hoth.
Desweiteren habe ich einen XWing und einen Landspeeder mit koreanischen Stickern gesehen. Den XWing konnte ich kaufen :-). Sowohl der Landspeeder als auch der XWing sind in US Box.
In dem XWing, der noch MisB war, ist eine koreanische Anleitung in dem zugeklebten Tütchen mit den Aufklebern beigelegt. Man darf also mit Sicherheit davon ausgehen dass diese Anleitungen ab Werk beigelegt waren, inklusive der Sticker auf der Box.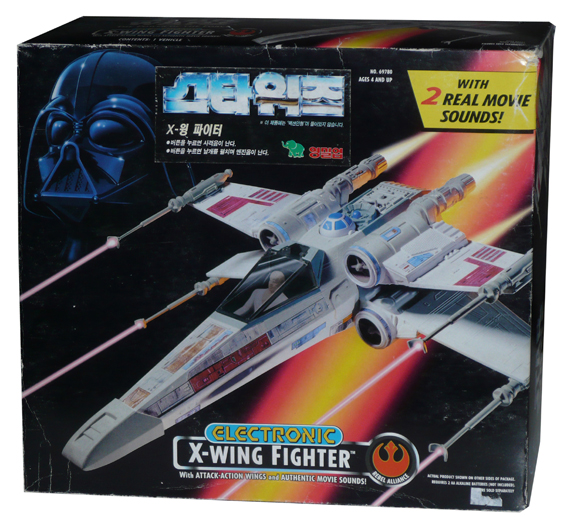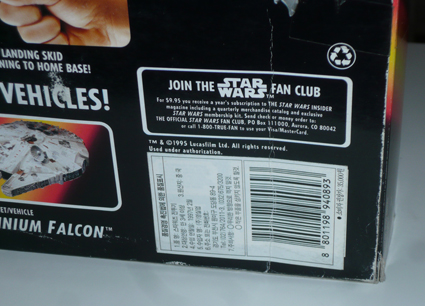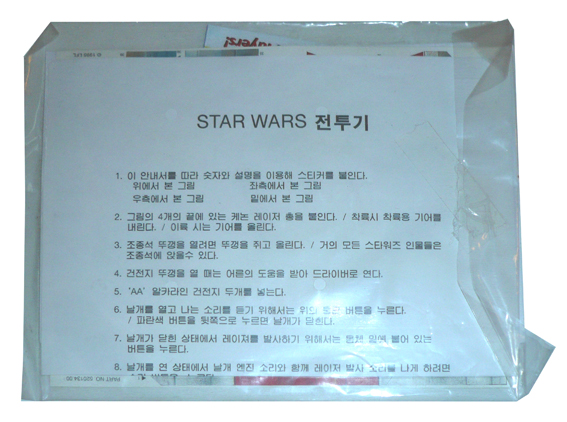 ---
titusillu
---
Edited by - titusillu on 01/16/2013 11:48:09 AM
titusillu
Zopfloser Padawan m. sehr grossem Schwert




Germany
2059 Posts

Posted - 01/18/2013 : 05:22:43 AM



---
Hey Jaxx, great now we have a nice pic of the UK Sticker aswell. :-) Thank you.
Toll - jetzt haben wir auch ein sehr schönes Bild auf dem man den schmalen UK Import Sticker sieht auf der Bubble!!!
---
titusillu